good morning ~
(click the picture/link to listen)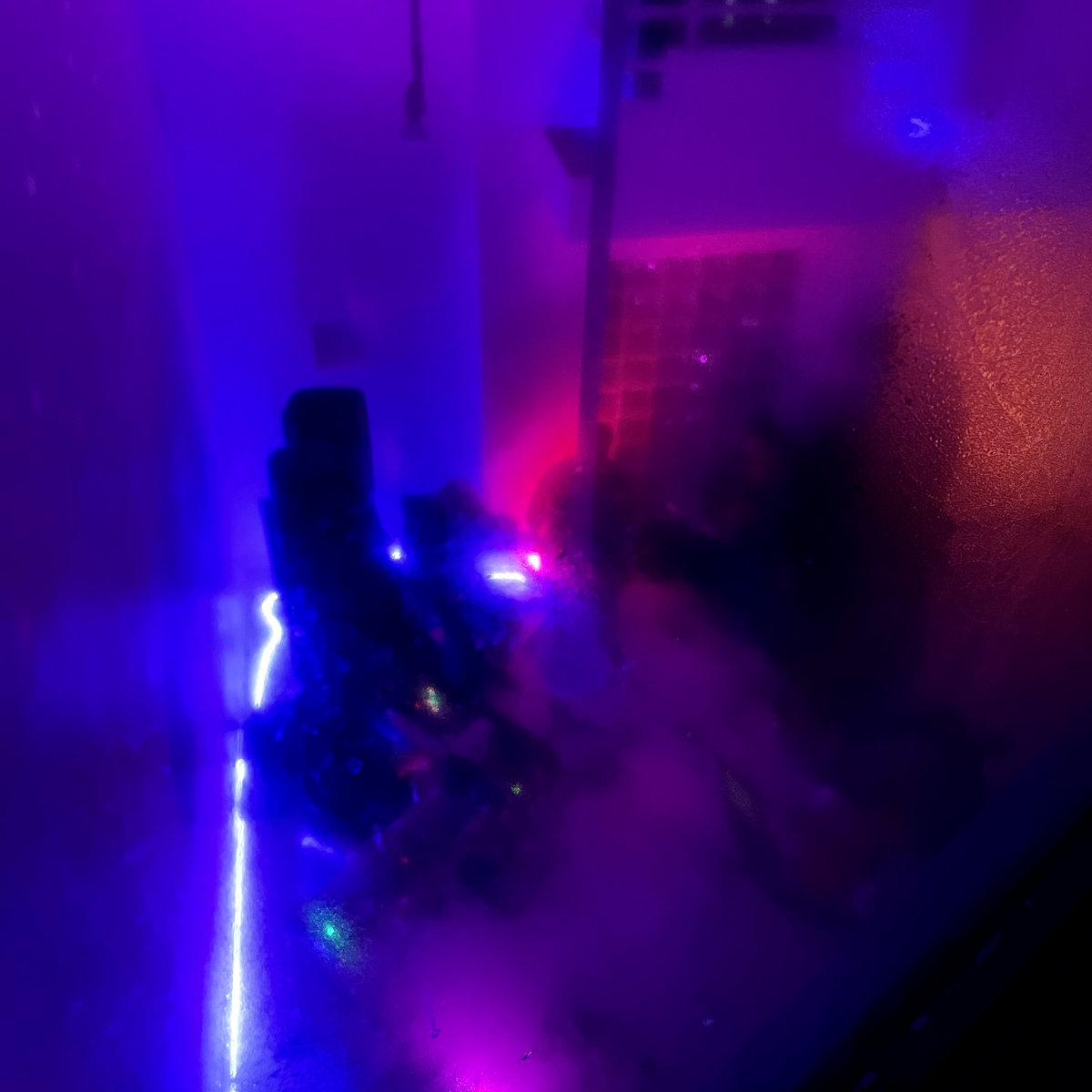 today's track is a wobbly synth zone, like an edison cylinder that washed ashore ~
i hope you are enjoying today's holiday or that you are consciously enjoying not celebrating and that either way you are acknowledging today's dark colonial history ~
How many rooms do we all move through in a life? How many apartments, how many rooms rented, how many couches do we crash on? How many dance floors, stages, and places of worship? How many doorways do we pass through? And the rooms we breathe in, do they remember us when we leave?
I knew firsthand that the vibes in the venue were absolutely excellent. Having had a truly good gig there last month I was more than willing to drive down and see my friends play there. Clean white walls, mid-80s hard obtuse angles, a refrigerator-size inset of glass bricks wobbling just behind where the music was played, and run by two very kind folks who seemed to really care about hosting something wonderful in their space. A good sound system, too. And IRL has that other thing, that aspect of a great space that's harder to describe. Something like: our hope holds the walls up. Or something like: it feels like it might suddenly vanish at any moment, leaving you wondering whether or not the space was ever there. Something like: beyond the threshold of the door is a room that remembers you.
The show I drove down for last week was going to be resonant for me and a good chunk of my friends pretty much no matter what - the two musicians performing conceived of the gig as a sort of belated double-release show, a 6-month delayed celebration of their work that, though I'm so, so happy it happened, did draw a thick, black line under all the gatherings and human warmth we've been missing. And my one friend's album deals very directly - bravely, even - with life after the loss of his partner, a wonderful person who is also my true friend. So - last week many of us gathered to sit on the space's white floor and listen to sprawling, sensitive palimpsests that - gently, soothingly - called our departed to mind. Our feet fell asleep as chords rang out against themselves.
And this was more than enough - to be in a room full of people listening is, still, after all these months of being one foot out of the illness, an absolutely devastating pleasure. I promise to never take it for granted ever again. And every other show I've seen or been a part of lately has made me dizzy, has hurt my face from smiling. But this one in Greenpoint last week was particularly affecting because, yes, gathering is wonderful but, beyond that, there was a glowing, warm presence in the room, almost in our world, coaxed from the walls by wild coincidence.
This is the story.
Leading up to the gig my friend was filled with wild energy - he bopped around, took me to breakfast, and sent 100 texts trying to see if he could plan an additional show, as this one had sold out. We ran errands, we killed time, we started getting ready to go. And as I was just about to hop in the shower my friend came running up the stairs, a look in his eye as if he had cracked the code, like he had finally seen beyond the veil. He bounded toward me cradling his phone with both hands, like it was too heavy or too hot to hold. He wanted me to look at the screen, but I couldn't make it out at first. An old photo from the internet, okay, shot on a bad digital camera in low mood lighting. Someone in the foreground, and a dusty graininess that photos from ten plus years ago seem to pick up. And behind the figure was an inset of glass bricks, wiggling.
"Dude, confirmed, she definitely lived there. We found it in an old facebook album, look."
And so there it was, documented proof. Our friend, his partner, who we miss very much, once many years ago spent a brief period of time living within the very same walls of the venue. She breathed in these rooms.
Truly shocking, never have I felt more visited.
When I played there, I mostly shared work made from a place without my friend - an approach to music found in the woods alone, videos made in the deepest parts of last year's isolated winter. But at the end of the show, feeling the need for an encore, I sang unamplified into the space. A song that my friend and I sang together often, one we sang together on record. And those hard, modern angles, the clean white walls, they bounced the sound back to me, almost as if I wasn't singing alone. I didn't know then that she had crossed this particular threshold in her life of rooms.
That night last week, equipped with the spooky, arcane knowledge of her presence there, I couldn't help but recognize her energy in the space. And my friend felt it, too. He said, by way of introduction, that she was here, her breaths were here, and then he asked us to affectionately squeeze the shoulder to our right. A big, intimate ask that everyone immediately gave into and was entirely charmed by, yes she was certainly with us, this was just her way. And then the music rose and swirled gently, frost evaporating from a frozen lake, glassy tones, glaciers slipping across the floor of the gallery. Slow, certain music. Geologic in that it felt both static and ever-changing. And most of all, warmth, a bond of absence between the many gathered there, held by those who knew her and felt but unrecognized by those who didn't. We breathed her breath, and, in what I see now as a very touching tribute, we tried to convince the people who run the gallery to let us have a big party there. We all breathed together in on room. We all heard both the silence and the tones. We all crossed the threshold. We all lived in one moment, ever unfurling, right on top of each other.
But what about you? Who is visiting? What rooms are you passing through? Is your hope holding the walls up?