good morning ~
(click the link / beach cruiser to listen)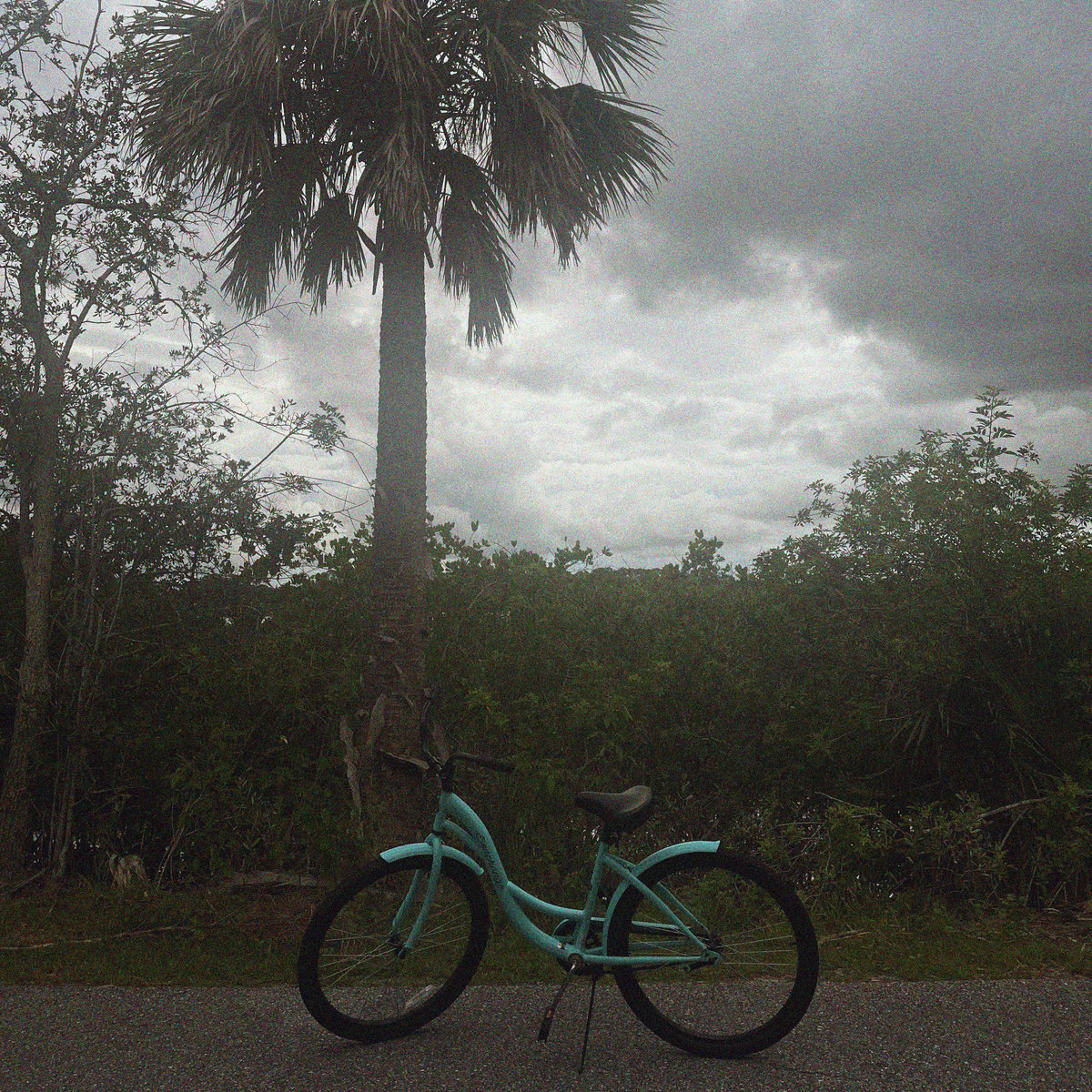 today's track is a live recording from a drone / ambient workshop I led last night while in the middle of this wild OneBeat program at the Atlantic Center for the Arts in Florida - this is but a 7 minute except of a two-hour open drone and it features performances by Jess Tsang, Pushpa Palanchoke, Max Schenkman, Amy Garapic, James Ward Parker (and me of course).
bringing some cool news to the newsletter - we just announced yesterday that I'm now a part of the newly relaunched label Tiny Engines. They'll be putting out my long-awaited rock record sometime next year and they're taking over distribution and reissuing of my back catalog. Tiny Engines also has an ambient/experimental sister label called Sound as Language and they'll be helping put out some of my non-song work, as well.
I'm away from home for another couple of weeks so you might not hear from me for a while, but I'm glad I could get one of these out to you today - hope you're hanging in there.
It feels hard to leave a place where so many interesting people with so many interesting instruments make beautiful sounds a lot of the day, but the nice lady at the rental car counter around the corner forces a free upgrade on you and it is probably the most powerful vehicle you have ever driven on a freeway, so you crank the sound system as loud as it will go as you tear ass out of the sandy parking lot.
The other night you played a simple chord progression with a drummer from Lagos and a vocalist from South Africa with one of most casually devastating singing voices you've ever had the chance to hear - involuntarily, standing half asleep, you mustered a phonetic harmony over top, understanding the meaning behind the syllables on the deepest possible level. Your voice strained to hit the high notes and so in it there was a dash of agony. When you left for the night the singer told you that you reminded him of Busi Mhlongo, hand over his heart. I don't know her music, you said, and he said with real glee and admiration, she was a gangster. And so it is her album from the late 90s rattling the doors of your chariot as you carve up the toll roads.
When you land in New York City it seems the A train isn't running so you request a ride from an app. The man who picks you up almost immediately tells you that you have a wonderful spirit and you talk the whole ride, his eyes brimming over for much of your conversation - a man of deep, lacerating empathy and two masters degrees in mechanical engineering. You tell him that you are nervous to marry your friends the next day - excited, of course, but that your heart is so full of love that it's almost scary, how do you safely carry around an overflowing cup? He tells you to tip it over entirely.
The most beautiful bodega sandwich you've ever scarfed and another night of rough sleep awaits you in Bed-Stuy - your eyes pop open at first light and your mind immediately starts retooling that evening's wedding remarks. The borrowed apartment overflows with flowers and you do your best to make coffee surrounded by buds and blooms and stalks. You write and worry and in the middle of your first attempt at an our-loud rehearsal is kindly interrupted by the bride's flower friends there to ferry away the arrangements, so you help them carry the urns and the boxes down the walkup stairs.
Other tasks: a wedding gift retrieved from the exit of a subway station and you forget to feed yourself, plus a nap will be required. The runthroughs are getting tighter - there's only five minutes to set the tone for the rest of your friends' life. When you feel confident enough to go off book you scramble to shower and put on your wedding clothes, cute enough to be photographed.
And then you're there, pounding a cold brew and being handed the actual wedding rings in their actual boxes. This is happening and everyone looks so hot. Wow! To be one among them! The tropical storm grows in intensity, rain falling at 45 degrees, but the many candles are lit and the flowers made it safely despite your handling them and the red checkered tablecloths are cozy and then your favorite person in the world shows up bearing a crucial printed copy of your remarks. She is so happy to see you and she is also hot and cool - she's ridden the train down with curlers in her mullet.
You realize quite last minute that there's a whole portion of the wedding you forgot to think about - when do they do vows? When do they do rings? When do they smash the glass? Hm, yes, there is panic. But somehow between the bride's brother's partner - also a Universal Life Church ordained minister - and the DJ and the planners you figure it all out and suddenly you are holding two wireless microphones, a clutch of tissues, plus the bride and groom's cell phones from which they'll read their vows. A number of people start weeping audibly before the couple even gets to the front and you realize that as long as you get the fuck out of the way for photos of their first kiss everything will be fine. And then you simply give one of the greatest and most important performances of your life.
Actual legal wedding documents signed backstage, the couple introduced for their first dance, and then your official duties have now wrapped so that you may enjoy an aperol beverage or two before dinner is served. Toasts and dancing and polite conversation, and everyone keeps telling you how good a job you did, what an easy topic for talking to strangers, you could do that all day. They turn on the overhead lights so it is time for the afterparty and you can't help but remember that there is a for-hire electric scooter waiting for you and your girlfriend outside. She holds onto you tight as you speed through the tropical storm, whatever substances you've ingested much less of a danger to you than the now painful full body chuckles that wobble the whirring wheels for the whole of the journey.
Naturally the following day is taxing and not quite the romantic 24-hour reunion you and your girlfriend were anticipating. But you do one more favor for the bride and groom, asking them, how are you so full of energy today? Didn't you go to yet another bar last night? And your friend sums it up beautifully: I just got fucking married, dawg! I'm full of love! This rules! You leave your girlfriend nursing a gluten free bagel in the lobby of a hotel you can't afford and make it to the airport in time. Your plane is delayed and your body is poisoned and your face hurts from smiling and your cup's tipped all the way over. Careen back through the flat expanse of Florida to sleep deep in the throat singing of your room's perpetually turning dehumidifier. 
But what about you? With what mechanical transport are you risking your life? Are you wearing your dancing shoes? Have you sipped lately from an overflowing cup?