good morning ~
(click the link / flying south V to listen)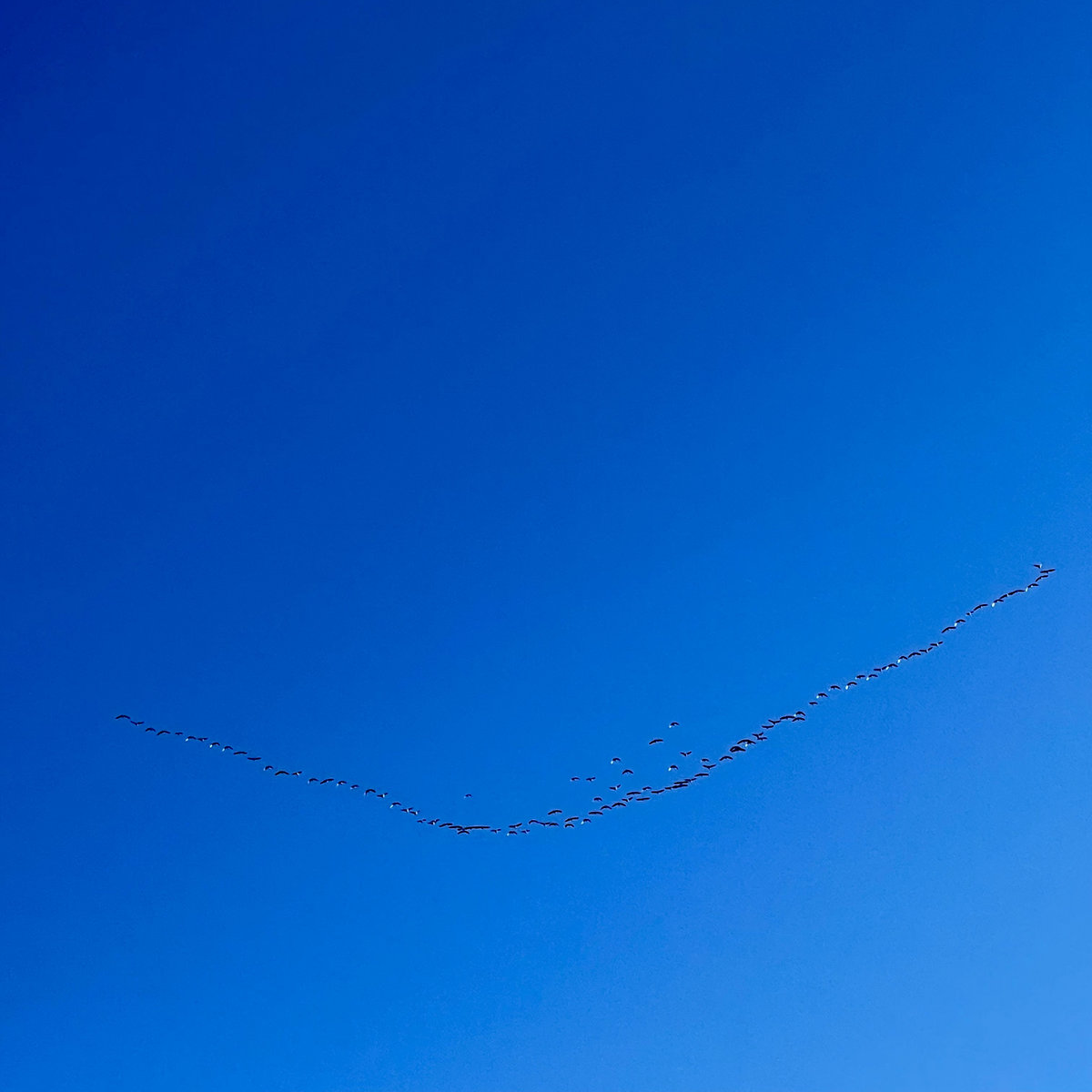 today's track is so good, feels like I really cracked something open - a swirling tide pool of varispeed vocals run through delay pedals
nothing to mention or plug in particular at the moment, but I will be playing a bunch of shows in October, info as they come. do you want to book something October 20th or 23rd in the northeast? lmk, I'd love to zone in your kitchen or garden shed or houseboat.
In the last week or so, for money: I have driven a U-Haul out of New York City in punishing traffic. I have gone and picked up tacos for a dozen hungry people all wearing floor-length, tie-dyed robes. I have spent 11 hours co-shouldering the light burden of a mixing desk while people slept on the concrete floor, encouraged to bring their own blankets from home. I have lifted and placed an entire mobile mini golf course, sweating through my cutoff t-shirt. I have worked on this newsletter. I have recorded a newly arranged tone zone version of "How Deep is Your Love?" by the Bee Gees. I have bartended and, since it was slow, this was the least lucrative employment of the bunch. I have played a house show (originally meant to be outside, it stormed the night of the gig, moved indoors. Performed in is the "emerald cinema" - a room at the back of the house with low ceilings, a drop-down projector screen, and wildly shaggy turquoise carpet that creeps in one sewn-together piece up from the floor and onto the various sitting surfaces. I performed in front of a video piece I made nearly a decade ago while I was working in Alaska - surprisingly poignant to see projected images of a younger me laughing with delirious joy in front of a glacial waterfall). I have sold a number of cassette tapes. I was asked to record something to help a friend and her sister grapple with a steadily approaching loss, how towering and unscalable that must feel. This is the heaviest lift but the sweetest work and the listeners were unexpectedly generous - I gasp out loud at dinner when I see the PayPal notification. I feel that all this - a multitude of labors, each unique in their demands and rewards - ought to be enough. And yet the engine calls for more and I can't do anything but chuck more coal in the chute.
///////////////////////////////
After the show the man who played the gong came up to me and told me things. People often tell me things after I play music - something about what I do or how I seem prompts people to speak, often at length (Why is that? Do I have a kind face or something?). He told me that he fell asleep during my set, fully snoozed (the greatest compliment). He told me that he had a deep spiritual connection with Alaska, and that once for three days straight he had the most cosmic, mind-blowing sex of his life in a tent on a shoreline in the southeast of the state. He told me that he had gone to Burning Man recently and that he had only just arrived back all the way - his body was here but his mind had been elsewhere. He told me about his relationship woes. He hugged me multiple times, deep squeezes, our bellies touching through our clothes. As we were talking I could hear people I wanted to say goodnight to leaving by the front door but, for whatever reason, a portal of kindness had opened between us and I felt called to remain talking to him, right in the doorway of the room with people sneaking by us on either side, until he got what he needed.
I hung around the kitchen pecking at the remaining snacks for another half an hour or so while someone told the few of us left how he had been regularly breaking in to an old hunting cabin and rifling through the contents of the house: food in the fridge, totally desiccated, exactly as it was a decade ago, a shotgun propped against one wall, dust on every surface, letters to and from a lawyer detailing what appears to be a nasty divorce. The place seems totally abandoned, as if the unhappy couple walked out the door one afternoon and simply never came back. He's gone as far as to learn the names of the occupants, even knows where the owner works. He thinks he might be able to buy it for a song, but how to word the letter to the owner just so? He is deep in speculation about the lives of these total strangers - who is paying the electrical bill that's kept the light switches working all these years? And hey, he told us, if the front door's open, it's not a crime.
I gathered up my gear and went to load up my car only to discover that the man I was speaking to before had driven off entirely without his gong - he left it propped against the front wall of the house, getting dewy in the night.
////////////////////////////////
In the afternoon we drink coffee and complain a little in the backyard of the shop around the corner, and then we dutifully gather cables and amplifiers and different pieces of gear in a lopsided circle in my living room. Before we can start playing I offer my buddies a snack - two plates of cucumbers and greek yogurt on toast lightly dusted with the seasoned, ground pistachios my other friend gave us in a little cork-lidded jar two weekends ago. To the plate we add a single carrot (grown by local high schoolers) and a single clementine, purchased from a mobile produce van earlier that day. We sit criss cross applesauce on the floor and figure out the chords and futz with the drum machine and we spend the next few hours lolling through it, casually switching instruments and approaches while one of us reads out loud. Then it's time to go - other obligations, other things to do - and we coil the cables and re-stack the amps and my living room falls as silent as it's ever been once again.
There is no point here, no thesis in bringing this up - simply a nice time in the company of other folks, the kind of thing that has occasionally felt absolutely impossible in the lower troughs. Here is the proof, here is the peel of their citrus in the sink.
////////////////////////////////
But what about you? What labors are you performing? Do you allow yourself to have a nice time? Did you leave your gong on the porch?