good morning ~
(click the link / column of jerash to listen)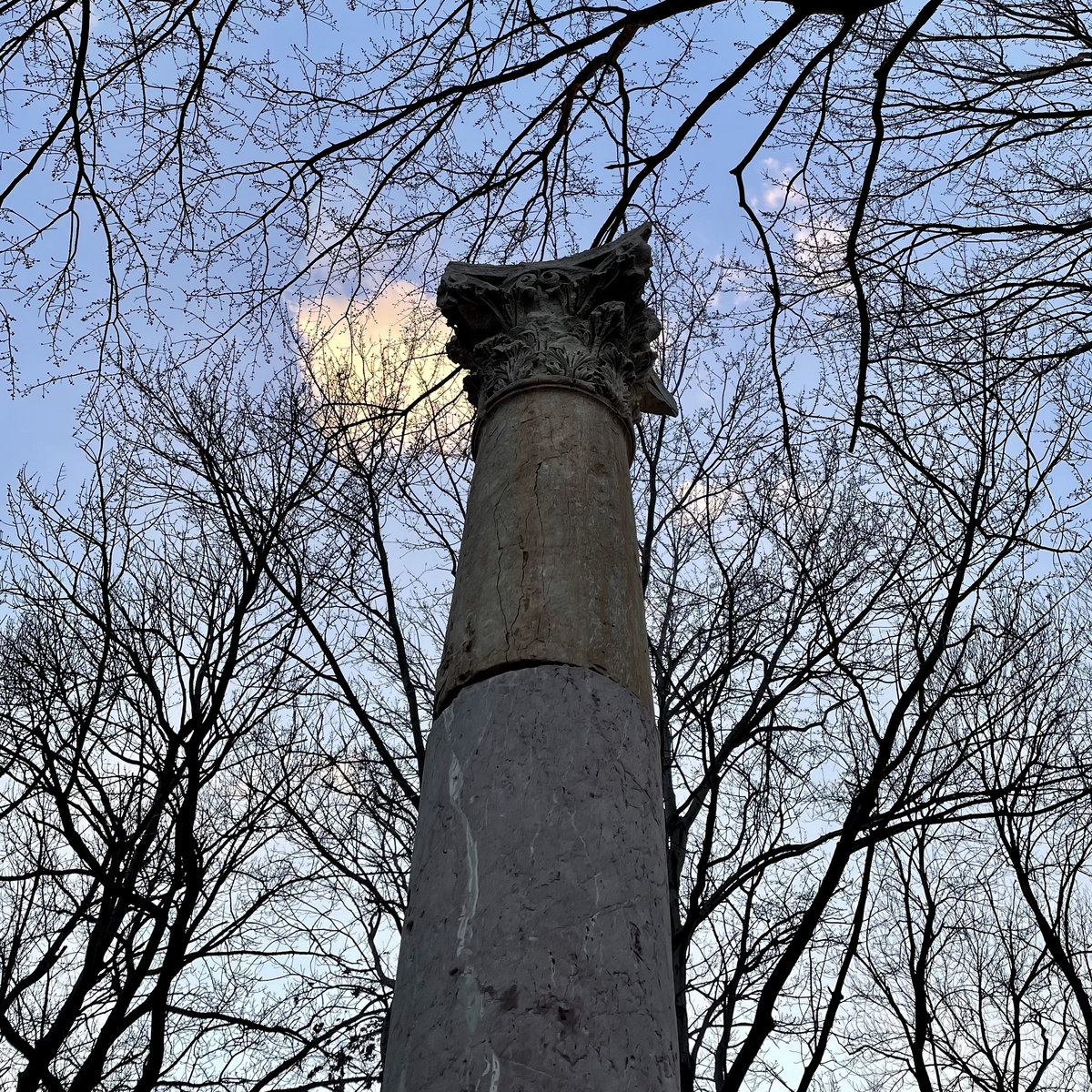 today's track is as far afield from the "nice sounding / ambient" genre I've dared stray yet - - it might be an industrial track, and then it speeds up wildly at the end
this week marked two years (fuck!) since youth pastoral came out, which is stuck in my mind as the last great thing before the pandemic. i was feeling really bummed out about it and to get out from under that cloud, I whipped up these commemorative, lightly bootleg, very bright shirts. you can click the image or grab one here. also, now might be a good time to mention that friday is once again bandcamp friday, if you happen to celebrate.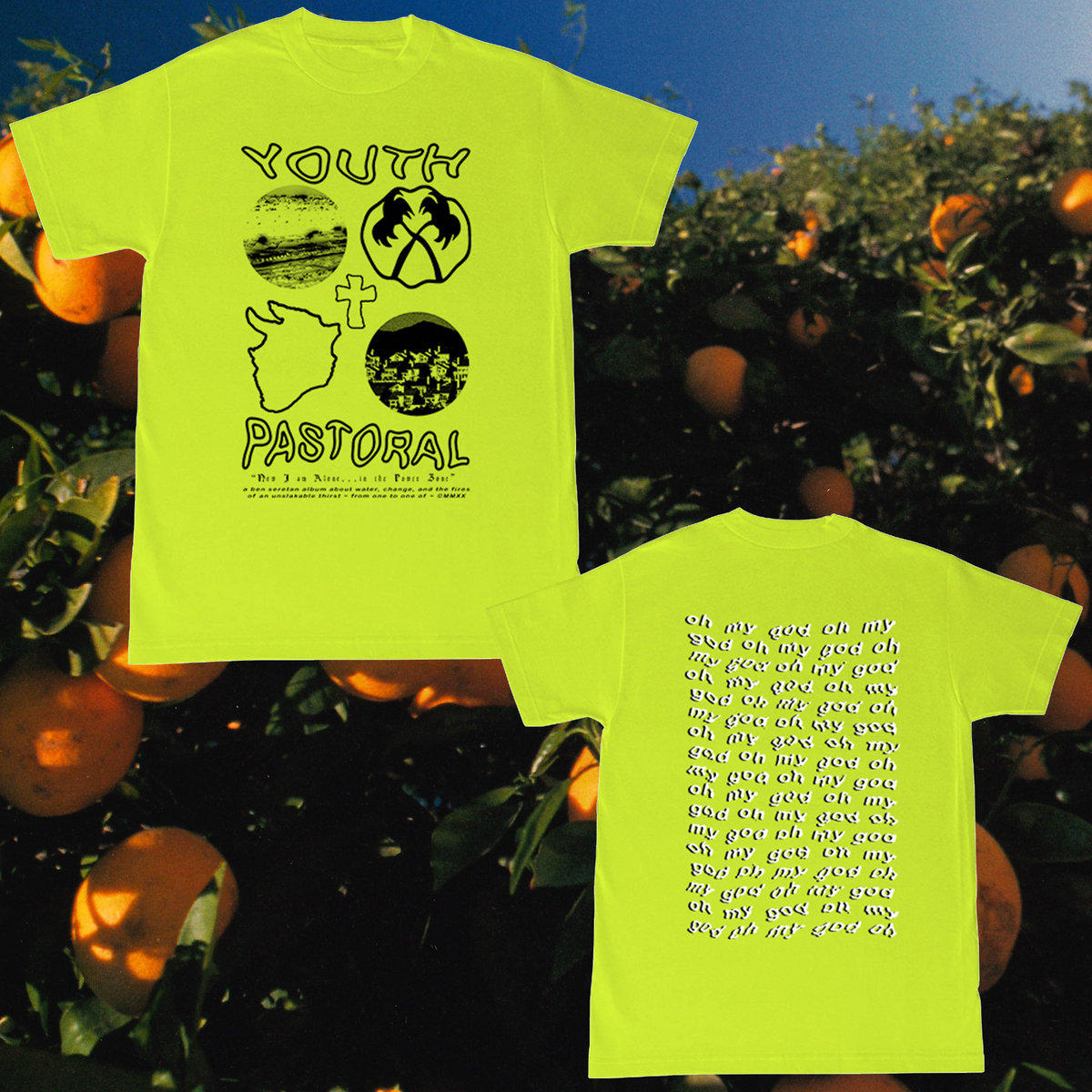 last thing i'll mention - - playing a bunch of shows this month, including next wednesday, march 9th at the sultan room with charlie kaplan and domestic drafts - - get yer tickets here.
In Queens across the highway from where the New York Times gets printed are the brown brick co-op apartments where my dad was born. I've never been inside - my grandparents and their two sons moved across the country when my dad was young and my family's been rooted to the spot in California pretty much ever since. And my mom comes from a city on a cliff overlooking the Pacific ocean where peacocks run free, and thus also a city where peacocks are strategically culled every few years. Both of these places hold a deep fascination for me, but I've lived on the east coast for almost sixteen years now, and I drive by my father's place of origin way more often, pointing at it from the window of the car or the bus I'm taking out of town.
A couple of years ago my dad came for a visit in early winter and, whether his idea or mine, we made the trip out to Flushing to see the old apartment. We had almost strategically visited other important personal landmarks on previous visits. We took a trip out to Long Island to visit my great uncle, who remains sharp and hilarious in his 90s while lacking almost any shot term memory - who are you again? He'd ask, smiling, as we all crammed in a booth at the local mall's Cheesecake Factory. And on another occasion my dad and I took the long subway ride up to the Bronx - he wanted to walk around Yankee Stadium and check out his grandfather's old neighborhood ("I used to run down to this corner and buy rye bread and mustard!"), I wanted to eat enormous Italian sandwiches on Arthur Avenue, so we braced our jackets against the wind and we walked from block to block.
But these other public transit adventures felt like detours, and Flushing was the actual beginning, the place my dad specifically comes from. When I was a kid, I couldn't understand a thing he was saying when he tried to explain it to me - why is it called Queens, what is a borough, there's no way a city could be called Flushing, you're making a toilet joke. I failed to understand all this even after a family trip to New York. I couldn't imagine my grandparents in winter clothes, or riding in the back of a taxi. When my grandma once told me via facebook messenger that her and my grandpa once lived on a now-abandoned island in the East River, my confusion grew. But then many years later my dad and I skulked around the co-op parking lot, him trying in vain to remember what number to what building was the exact one. We couldn't be too sure.
Can you ever be truly known by another? Your closest friends might know you well, sometimes eerily so, but your life and your remembered experiences are ultimately your own to hold. Perhaps that's why, last summer, when I brought my girlfriend to California, it felt so urgent to have her behold the various important sun bleached sites of my western youth. The cul de sac, the beach, my high school, the sculpture garden, the strip mall, the freeway, the christian center. Things I had described, made actual as we passed them in the car. And I've seen her fading landmarks, as well - the glass house, the farm, the barn, the coffee shop, the hot dog stand by the beach.
These landmarks are a bit like rocks in a stream - time slips by and runs over them, eventually wearing them down, but the place lasts longer in one spot than the people do, usually. Even if the buildings are knocked down or the restaurants switch hands or, in the case of where my dad and his family come from, the demographics of the place change wildly in the span of fifty years, you can still anchor yourself to a place, you can still verify the truth of your existence by pointing out the window. And given enough time all of it will change eventually.
I think of the utter turmoil of the early 20th century that brought my dad's jewish family to the outer boroughs - the shellings, the migration, the forged immigration papers, the murky switches of nationality given quick changes in power, people at the whim of nations and armaments. My grandpa got drafted and was quickly discharged under peculiar circumstances and the military paid for his tuition. You could buy property back then, not like now. He spoke only Yiddish until the age of five, or so he claimed. My grandma helped make ends meet folding sheets in the linen department of the Flatiron building. And their parents, where did they come from? In what valley and in what shtetl, what was the country called then? Who was lost in the flight? The history is unclear now, vaseline on the lens, and was never particularly easy to parse, impossible to point to, too obscured to trace a line around.
I was in Flushing again this past weekend, passing through on my way back to Troy. We walked around the old World's Fair pavilions and heard the many late afternoon soccer games happening on fields and empty pools throughout the park. We stood at the base of the Unisphere while 100 other people took selfies, the sun set magnificently over the freeway. And before we ate dumplings in the basement of the New World Mall I, too, felt the strong urge to point at the brown brick co-op. That spot right there, that's where some of my people come from, I'm knitted in - can't you see the web?
But what about you? Where are you pointing? What stones in the river are you holding onto?