good morning ~
(click the link / dead moth to listen)
https://mybigbreak.bandcamp.com/track/oh-today-you-are-the-cool-guy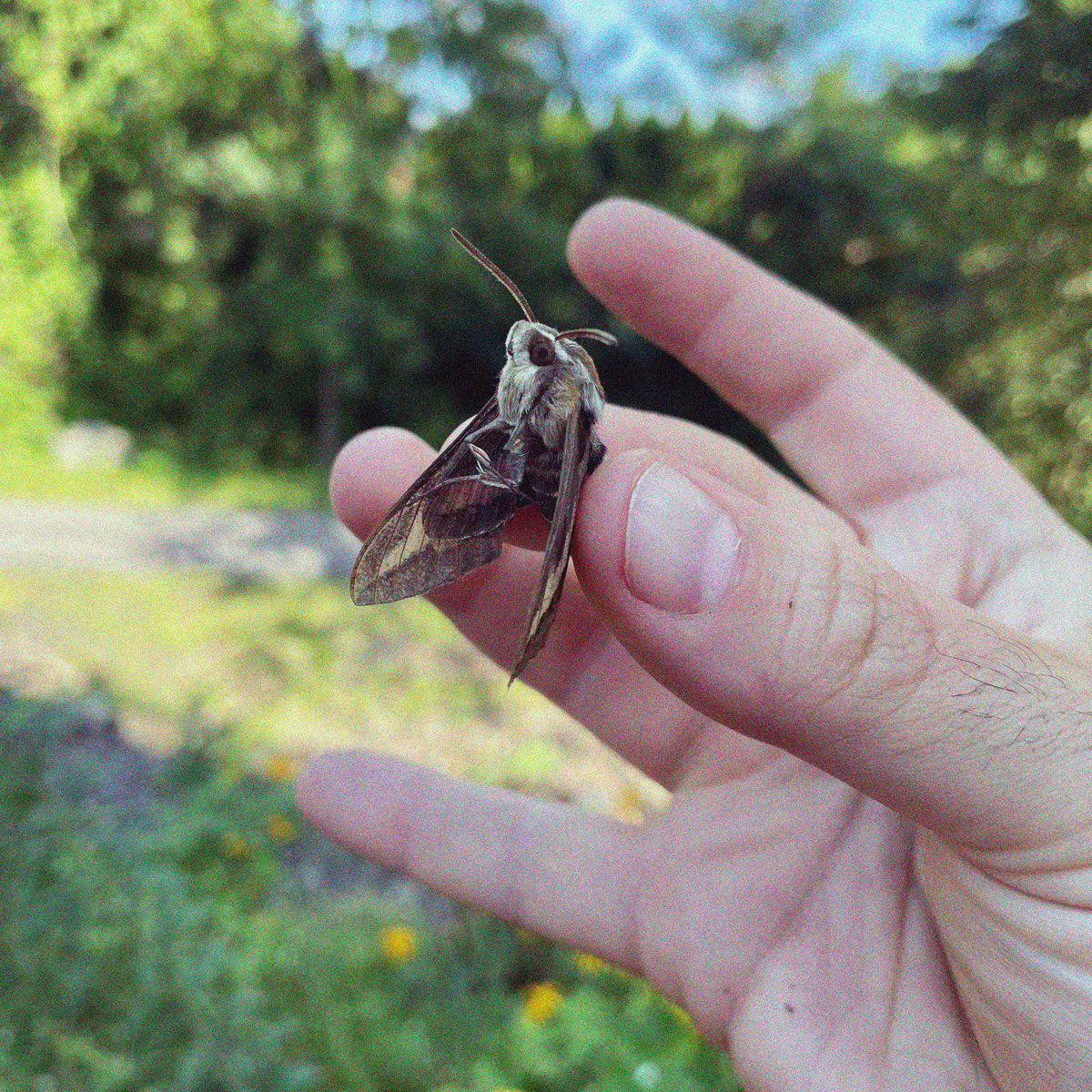 today's track is a cassette tape recording I made on my back porch, something I lovingly prepared for the interrupted set described below
playing in Kingston, NY on Monday with a new duo called Organized Sound featuring my buddy Maeve Schallert, a sick violinist / computer music head. Casual Decay and apostrophebeats are great, too, def recommend checking those links (and coming to da show!)
Out of the corner of my eye I saw him sneaking around toward it, but what could I do? He waited until I was knee deep in a 30 minute set that, by design, had no easy offramp - it was to be a space of continuous incantation, one big bubble of soap stretched just before bursting, one unbroken flower crown of sound.
I knew something annoying was happening because he had already refused to modulate the tone of his voice in any way at the beginning of my set, despite all the other people that had gathered in the hush, standing with crossed arms or sitting criss cross applesauce on the unbelievably dirty floor. He kept on talking. Always fucking talking! This guy is the champion of not listening to the end of anyone else's sentences. On previous occasions when I had run sound for him we never managed a conversation - he only ever barked garbled requests at me and then patted me on the shoulder, good-dog-like, having met his requirements. I read some amusement in his face when he realized the person who had been his servant for the Friday gig was also playing the Sunday gig. Oh, today you are the cool guy? he said on my entering the bar.
A little aggravating, sure, and I had come to expect that shows at this particular venue would be disorganized and unintentionally disrespectful toward me - in other words I was well prepared to start my set an hour later than publicly advertised, to have not been given any logistical information whatsoever, etc. That was all fine, minor indignities. And I assumed that as he saddled up to the instrument that he was simply going to fiddle with it or obsessively adjust the lights as he had done on Friday, something needly but not inexcusable. Never would I have ever guessed that he would have - in the middle of my considered, prepared, open-hearted conjuring of sounds and music - picked up a couple of mallets and started bonking his little linen suit heart out on a fucking marimba.
A marimba! I'm having trouble thinking of an instrument less well suited to what I was doing in that moment, an extended taffy pull of delay pedal sounds that, very intentionally, have no attack - everything I threw in that vat of sound was intentionally faded in and faded out, beginnings and endings unclear. A fucking marimba? Bink bink bonk! Not to mention the fact that the man simply does not know how to play the instrument - he kept unmusically clicking his sticks together or just totally whiffing his choice of note. The whole set was one stupid chord, Yonatan - it's not that hard to figure out what key we're in.
But there was nothing I could do mid performance, he non-consensually forced me into jamming with him. God, the word jamming in this context makes me retch. I did what I could but, as usual, he wasn't listening, wasn't registering the pleading eye contact I kept awkwardly trying to make, twisting my body to catch him at the marimba behind me. Eventually he relented, the bonks ebbed, but before I could get back into the groove of what I was trying to do, they guy who was supposed to play after me started playing, too! Also quite unmusically!
I want to make this very clear: though some cross pollination of the musicians had been discussed among the other people playing, no one had ever mentioned anything to me specifically. No heads up, no invitation, no warning that performances were to be crossfaded, and besides: I was told to play 30 minutes, so either way you look at it, I got played off, forced into slouching outta there.
Understandably, I was pretty annoyed. And I thought I stated it very calmly in the make-do green room: "I did not enjoy that at all" were my exact words. But drawn onto the sidewalk I was surprised to discover quickly that I was being accused of shouting (I was not), fighting (I was not fighting), and making a scene (one of us was making a scene but I don't think it was me). The closest thing to an apology uttered was something along the lines of "it won't happen again," which, true, this exact thing will never happen again. I couldn't get a word in edgewise - you're not letting me talk, I said, and he came back with a surprisingly childish tactic: I'm not talking to you. Oh, okay. When he passed by a couple of minutes later I asked him, "do you want to talk to me now?" NO! he said, swishing in his linen pants.
So I got my shit out of there and bolted - he had already made me feel like shit by erasing all enjoyment of my own performance but then he made me feel like hostilely unwelcome shit, his face kept grimacing hilariously, better to just toot away in my CRV and breathe free of his noxious cloud.
And then all the drive home I can't help but wonder what it is about me that allows such vivid disrespect. As I retreated to the Catskills I remembered other times that left me stepped all over, how I still can't figure out if I treated myself poorly because others did so, too, or if it was the other way around. Did I leave them an instruction manual for making me feel bad? Did I set the tone by not loving myself enough? At a moment where lately, by my own hand, my solid footing and overall happiness has been somewhat compromised, this asshole found an opening. Were I capable of allowing myself higher regard, he'd have no way of getting the knife in. Others will see these opportunities and pounce, surely. Best to polish the breastplate and sharpen the lance, when you open your heart to the world that includes all the assholes in linen pants stomping all over its surface.
But what about you? What would you do if rudely drowned out by marimba? Are you owed multiple apologies? How are you subtly broadcasting your own worth to the people you encounter?