good morning ~
(click the link / flash photo froggy to listen)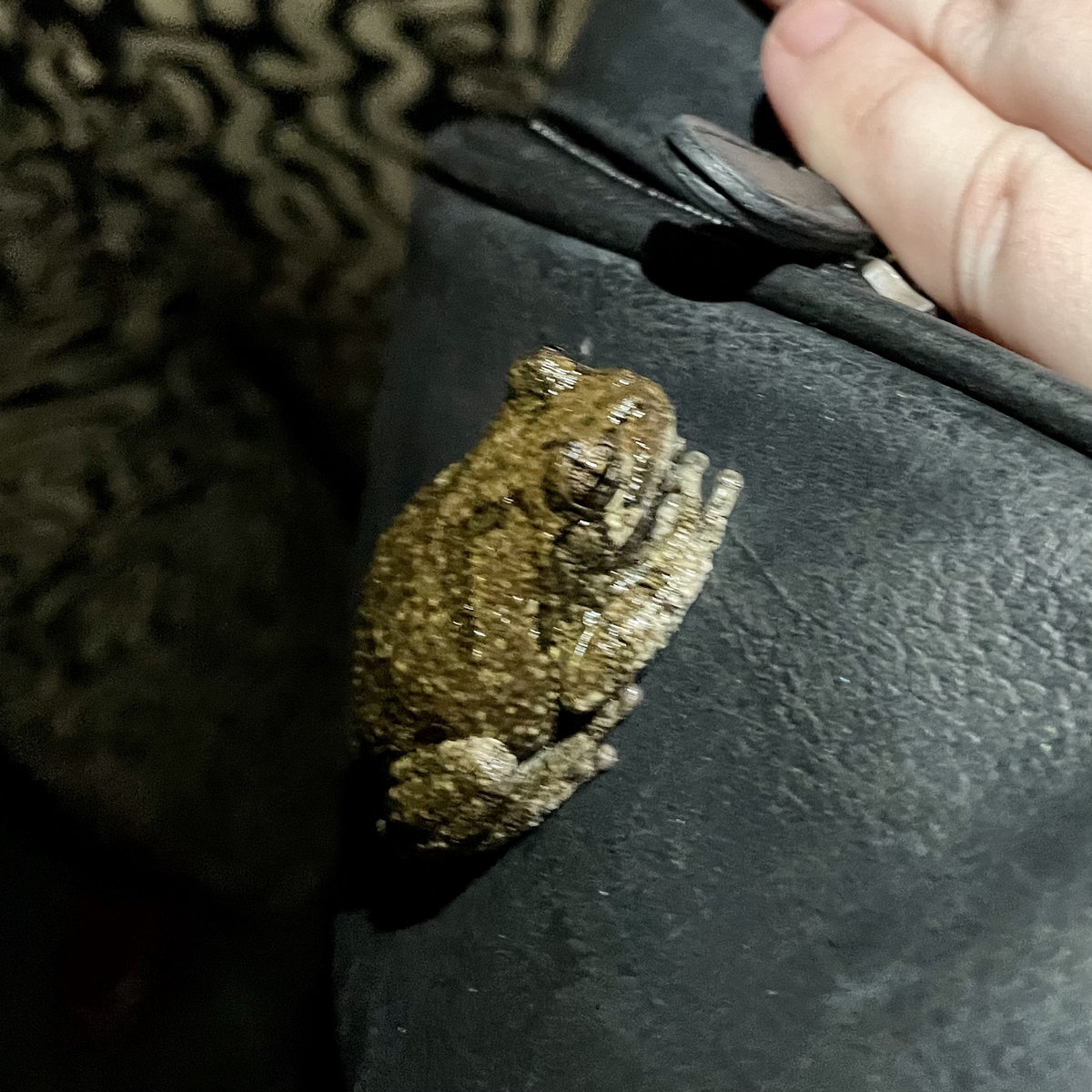 today's track goes - a floppy SEGA Genesis banger in four or five parts.
I'm going on tour in one week's time! starting next Thursday I'll be heading out with my buddies the Early, hitting five shows in the NE in a row, including this big show at IRL in Brooklyn:
here's the full rundown of dates:
June 2 - at IRL in Brooklyn with Lip Talk (performing with Shahzad Ismaily!)
June 3 - garden party in Hillsdale, NY
June 4 - at 159 Sutton in Providence with HOST and cream scoops by Big Feeling
June 5 - at the Avalon Lounge in Catskill with M. Geddes Gengras
June 6 - at the Hive studios in Burlington with Wren Kitz
also, there's an in-depth article on ambient music, playlists, and the mysterious spiritual practice of making money off of just vibing up on Pitchfork for which I did a lengthy interview - - check it out here.
When the hard noise curfew kicked in at 10pm the official wedding party came to a close. The early-to-bed and didn't-book-a-hotel-room crowd had already vacated the open-air barn shortly after dinner, but there was a good number of folks still in their fancy clothes and still looking to keep that floating beach ball of energy up in the air. So I changed out of my sweat-through dress shirt and wandered down a dirt path, following the headlights of golf carts carrying drunk strangers deep into the night. Coming around a bend I saw two ponds beautifully illuminated by dozens and dozens of tiki torches, everyone flickering in an orange glow, lightly eerie. In a simply profound display of wedding planning prowess, the venue staff had laid out not only an entire remote bar but also an impressive table full of charcuterie and, in the words of the best man, the fucking best roast beef sandwich you'll ever fucking eat, bro. The wedding party continued seamlessly, everyone chatting and shaking hands, everyone looking to get a word in edge wise with the bride and groom, who were just radiant with charismatic energy. But there was no music, no more DJ, no wireless bluetooth speaker. The day before the groom had mentioned that he might want me to play some songs in the late hours of the party, so I brought my little 3/4 size acoustic guitar, but it was clear to me from fifty yards away that I wouldn't be doing any singing. And that's because these two ponds were overwhelmingly, overflowingly alive with the persistent bellow of tiny little frogs who croaked and moaned into the flame-orange aura, a million unoiled doors. I wish you could hear this sound, and I wish I had had the foresight to whip out the voice memo app. It was tremendous, cacophonous, hilarious, as loud as an irritated crowd in the bottom of the 7th. I couldn't pay attention to anyone or anything else, not even the generous table of snacks - I just stood there slack-jawed in my sleeveless tee amid the conflagration, and if someone did talk to me I'd say something like, "can you believe these frogs? wow!" And then of course, because they were everywhere, people started catching them and picking them up, taking harshly flash lit selfies with the little guys. They laid in the dirt to get up close to them or let them ride around on the outside of their purse for a while. They cooed in admiration of their slimy little bumps, their geometric pupils, and I kept saying things like "how can just a little fella make so much noise???" Well, I didn't stick around long enough to learn the mysteries of these frogs - I had an apartment to drive back to, and what promised to be a good sandwich for the ride home.
What is it that people even do together? It's a question I find myself thinking about often, particularly at weddings where I remain sober enough to drive my gear home at the end of the night. But it's a dissociative stance I find myself taking more and more in these weird, allegedly back-to-normal days. I used to know what to do with my hands or how to go with the flow, it made sense to me why people would want to be in a room listening to not-that-good bands all together, and the everyday transactions and more once-in-a-lifetime communal ceremonies were the air we all breathed, for better or worse, the substance the walls and roads are made of. Maybe it's the fifth-day-of-COVID-isolation talking but camaraderie just feels still so wonderful and intoxicating and bizarre. And the looser and more comfortable people get together, by whatever means (be they dancing or drinking or doing drugs), the more surreal gatherings become - after a deeply felt ceremony and an open bar on the hottest day of the year, naturally the group would end up catching frogs, trailing the hem of their dresses in the mud.
But then again weddings and other ceremonies - when done right - can open up some really powerful portals. They're not just like, quotidian, everyday human things. Weddings and funerals and sometimes birthday parties are weirdly charged, and obviously way more significant than your typical capitalist interaction of buying a bagel from the place on the corner or whatever. I remember once at a wedding years ago watching the bride and groom aggressively crowd surf to a Black Sabbath song, and then a couple of hours later, the bride serenely walked straight into a lake wearing her wedding dress - we all grew silent around the campfire watching her train lift on the surface of the water, the closest I've come in my life to experiencing something straight out of King Arthur's court. It felt mythical. And you can walk right up to any person at a wedding you're attending and strike up a conversation with them - oh, so how do you know the happy couple? Normal, everyday boundaries are swept away in it being a big to-do, even at the most humble of ceremonies.
Weddings and the institution of marriage are not without their flaws, of course, but I do wish a lot of the time that people could make more of what they get up to more like a wedding. We love to say that weddings are a once-in-a-lifetime thing, a day you'll cherish and remember forever, but wouldn't we be much happier overall if we endeavored to make more of our life worth cherishing? Lately at gigs I've been trying to make an effort to point out that, much in the way you can never step into the same river twice, you'll never see the same show with the same group of people twice. But you'll never do nothing twice, you'll never go to the same party twice, you'll never hear the same bellowing pond of frogs again.
But what about you? Are you cherishing it all? Are you going with the flow? Do you know what to do with your hands?