good morning ~
(click the link / rockaway takeoff to listen)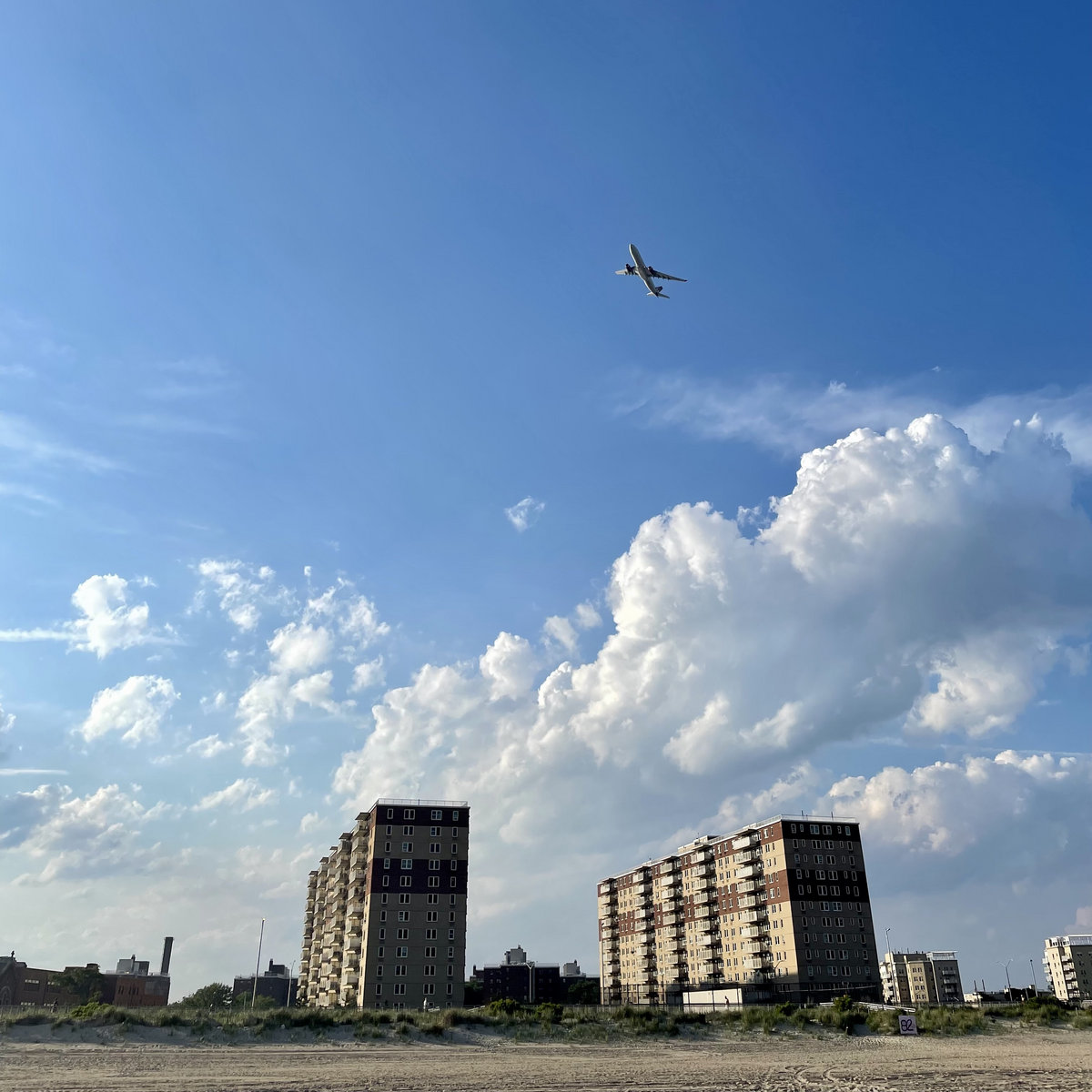 today's track hovers gently, fog machine cloud in an empty room. ridiculously hard fought track, unexplained technical difficulties, a keyboard made from the sound of a single wind chime
sending this to you from a hotel room in Montreal ~
gigs: i'll be playing at No Fun in Troy, NY once again next month with Babehoven and my buddies Field Guides (whose new record comes out tomorrow!). july 8th, free show, come through ~
also - it hasn't been announced officially yet but it's like 99% confirmed that I'll be playing at Basilica Hudson a week from today, june 30th. i'll send the proper info out next week ::thumbs up::
I don't want to write about the unpleasant things. I don't want to give them power, I don't want to give them air, don't want to speak them into a deeper existence by spelling out their true name.
There's a series of long, sandy lakes about a twenty-five minute drive from my house. We like to go on walks there in the winter when there's an empty, eerie quality to them - the lakes ice over and the distant barking of the early evening dogs bounces off their hard, flat expanses. We hardly ever see other people out there, us strapping crampons onto our boots. But in the summer there are always families grilling and spilling out, gaggles of kids splashing around, or there are goths bathing nearly fully dressed, or there are people playing beach volleyball. There are people around, even when I tend to go after 6pm. And the water is crisp, refreshing, gently warmed by the sun on the top six inches. It's easy to get into and that distinctly lake smell sticks to your skin long after you dry off - minerals and algae. It's a lovely dip, a cleansing one - it's where we went after a frustrating brush with COVID cut our otherwise triumphant tour short, felt like a ritual. And it's where we went last week when my buddies finally finished their remote work for the day, cramming in a swim before our dinner plans (a swim which, to me, felt blissfully actual - the opposite of email).
But most places, at least in the summer, have a few decent swim spots. Up here people keep them close, doling out the acceptable parking spaces and trespassing instructions to trusted buddies. But most everywhere has an ocean or a pond or a bend in the creek, a true blessing (not an unpleasant thing, I speak bodies of water into a deeper, more restorative power). There's one thing here, though, just past the lakes, that feels wildly unexpected, plopped down in a remote corner and bizarre to drive up to.
I've seen a lot of the country in the last two years - plague months surrounded by Amish farmland in rural Ohio, 15-hour drives to North Carolina, taking the 101 past the forgotten coast, ferrying a car full of friends between Austin and Dallas. And I've often wondered - particularly when everyone was supposed to be stuck at home - what is really going on in the various spread-thin suburbs and spotty exurbs of North America? Who are these people that live here, with college football flags flying on their porch? What are they manufacturing in these anonymous industrial buildings? What is really out there, if you had the time to look?
I'd like to believe that there are wonderful things, interesting people, and lives being richly lived just beyond the strip malls and highways that are the predominant flavor of this particular empire. I'd like to live in a world where peeking behind the curtain a little bit yields surprise and delight. I'd like to travel in a country where there are better alternatives than vape shops and subway sandwiches for those willing to dig a little. But I don't think we live in that world. Or at least those things worth looking into are either too rare or too obscured from outsiders to be encountered regularly. I think most places are pretty pedestrian, aggressively normal, not all that surprising.
That belief - thinking that, probably, most of America is either boring or cruel - can hardly stand up against one particular building, just a short drive past where I like to swim. A part of the world I had generally written off.
Down an otherwise unremarkable dirt road of a two-lane highway sits the Grafton Peace Pagoda, a beautiful tiered structure surrounded by gardens and forest. It's shockingly white, perfectly domed, and lovingly built from what appear to be gathered fieldstone. At the top of the stairs is the figure of the Buddha, meditating in an calligraphed apse. At the peak of the steeple that reaches up from the dome is a golden lotus. Around the base of the dome are relief depictions of the momentous occasions of the Buddha's life - his birth, his adolescence, his transcendence. Visitors are encouraged to take the prayer walk - three loops around the pagoda. Posted signs tell you that the structure was built over many years by many volunteers of all faiths and walks of life. In the ponds, the frogs sing, and once we saw a swarm of bats.
It is a very good place and one that continues to surprise me deeply. If the Grafton Peace Pagoda exists, then what else is out there? If volunteers could put this thing together, what else are we capable of?
Surprised again by kindness, however empty the gesture - dinner in the ragged backyard of the beloved local Italian spot, string lights overhead and a table of old guys still chomping on the nubs of cigars at the next set of patio furniture. They get up to leave, cracking jokes with the old timer that still makes the pizza. As they turn to go, they ask us, "would you folks like anything from our cooler?" and before we can explain that we've already BYOB'd they are unloading bottle after bottle of terrible wine and ice cold light beer onto our table. The man with the cooler insists, in that gruff but gentle way that male relics of the 20th century have. We all have a good laugh about it. I crack a tiny Heineken, 7.5 ounces, and it is cold and tasty, surprised again. Then we tell the teenager serving us when it's our time to go which bottles we haven't opened with a wink. And my friend disappears for five minutes, eager to present me with a gift - he ran inside to get me a t-shirt from the restaurant because I said it was cool when we first walked in. It looks great on me.
Everything else I could have given this space to died a little bit when I thought about my friend, about the ritual of swimming, how there is a monument to peace and mindfulness deep in the woods above my apartment.
But what about you? Have you been surprised lately? Are you letting yourself be surprised? Where was the last place you went swimming?