good morning ~
(click the link / disco ball to listen)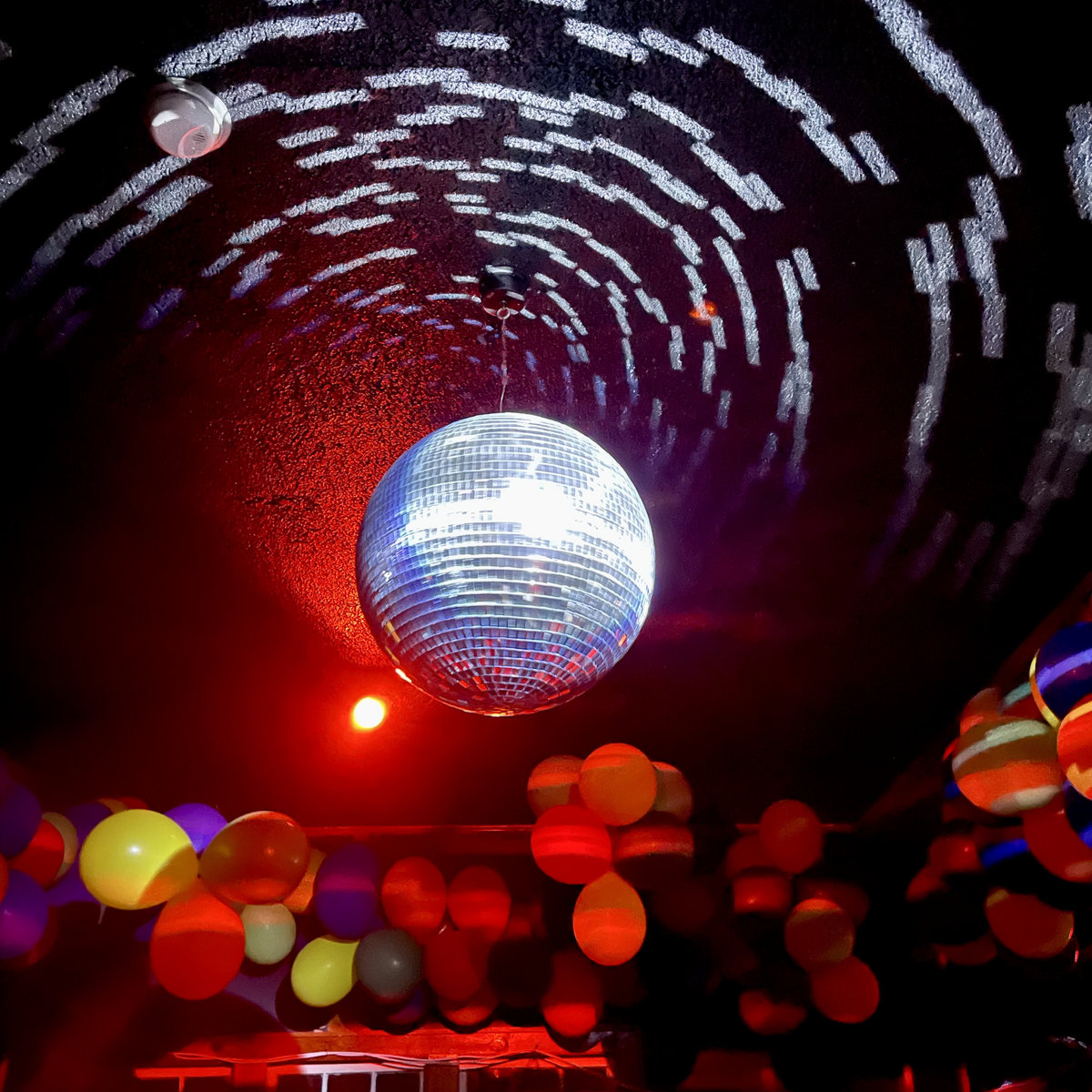 today's track was made while squinting right into the sun - extra celestial
this sunday in NYC I'll be providing some activating drones for the music party at postmasters gallery celebrating the outré sculptural works of my sweetie, the artist gracelee lawrence. the show is closing soon, btw, so you gotta go see it! sunday's a totally wild lineup - stella emmett makes sweetie pop bops, tiresias is a drag oracle from another galaxy, cecilia gault slays hyperpop bangers, and christian tokyo DJs good old-fashioned futuristic techno. the show itself is great, the music will be fun, and it's also gonna serve as my birthday party, so that's nice. here's a flyer:
I love when you're going to the show and you already know the way, so you don't have to rely on directions from your phone - you can admire the bends in the road or how the clouds look in the last couple hours of daylight. You have been to this place before and you know you will enjoy yourself. And when you don't have any set plan, no one you've made arrangements with - you're simply acting on the desire to see some music played, going with faith that someone there will be kind enough to talk to you. And then, incredible, the first thing that happens when you walk through the door is that a table full of smiling buddies invites you over, there's already an empty chair, and, what luck, these friends have hidden a birthday cake behind the bar and now you're singing with them. In the space of an hour you went from the loneliness of an empty apartment to the embrace of watching someone blow out candles.
And I love it when the guy at the door recognizes you and tells you it's good to see you again. And I love paying my for my friend's entrance. And I love the little chit chats with the members of the various acts - how when you show up before the first band starts there's a sense of relief that you've walked in the room, a palpable feeling of oh, well, at least this guy's here, now we have a show. And I love how shared the encounter is, how you'll always remember that you sat next to your friend, criss cross applesauce, right in the stream of the amp, loud violin bowing and blowing your hair back, your friend reaching out to clutch your elbow just to make sure she doesn't float away. I love it when you recognize the melodies and words from your friend's albums, that one ascending line from the CD you played every morning for a month.
I love it when the gig is small, when the gig is intimate, when you really notice it when someone decides to get up and go to the bathroom while someone's playing their songs. How it feels like the ten dollars you throw in the meager door pool might actually buy someone a tank of gas at the end of the night. And how it feels like you really count for something, like the gig would truly not be the same without you should you have taken the coward's route and stayed in for evening. I love, too, to be an anonymous member of a crowded throng, but these are the extremes of personhood: sometimes you want to be seen and perceived for who you are and sometimes you want to melt into the leviathan. And I love it when you feel as if you've been let in on a secret, a little glance behind the veil - this music is so wonderful, don't the fools outside the room know what they're missing? How are you allowed the marvel of this wiggling air?
And I love it when after your friend's set you go to tell him good job and you really mean it and he promises to send you a link to the rough mixes of the album he's working on. And then you say to him, hey, you know that song lake marie by john prine? And before you can even finish telling him the new song they played reminded you of it, he's excitedly telling you that yes, yes, we listened to that song obsessively when we made the record! And you both get excited because despite your different lives that vary wildly and have only touched at a few points at gigs and over email you both love that song. And in that moment you remember how in love with life you felt when you heard that song for the first time, naked at someone exciting's house. And you almost ask your friend, hey, did an ex you don't miss but remember fondly introduce you to this song, too? But you don't, exactly, you just keep chuckling, then you hug and say goodbye.
And I love it when the guy working the door is outside smoking a cigarette when you're on your way to leave, so you get to tell him the thing you thought about saying throughout the three sets of the night - brother, I don't believe in prayer, but I do believe in the power of positive thought and I will be thinking kindly on you and your family this evening. It sounds too rehearsed but you hope the point gets across, he seems to appreciate you clapping your hand on his shoulder.
And then I really love it when you walk out in a heavy rain out to your car and the wurlitzer player from the last band sprints out of the front door of the venue saying wait, wait, wait. You turn toward him thinking that, hm, are we having some kind of romantic moment? Or did I simply drop my credit card at the bar? But no, he says there's something he's always wanted to tell you. Which is odd because right up until this moment you didn't think he knew who you were, but nevertheless he tells you that for the space of many years an LP with your face on it lived in his house and, during many acid trips, you became a sort of benevolent deity to the tripping. And then he tells you that there were many nights where he stared up at that image of you from over a decade ago and, given this encounter at the gig, he wanted to make sure you knew that. He thanks you and you have no choice but to say you're welcome. You're welcome, you say, and then you get back in the car and leave the gig, the rain louder than you remember it being.
But what about you? Are you taking the coward's route? Are you sitting in the stream of the amps? Are you unknowingly someone's acid deity?