good morning ~
click the link / cemetery at dusk to listen - - -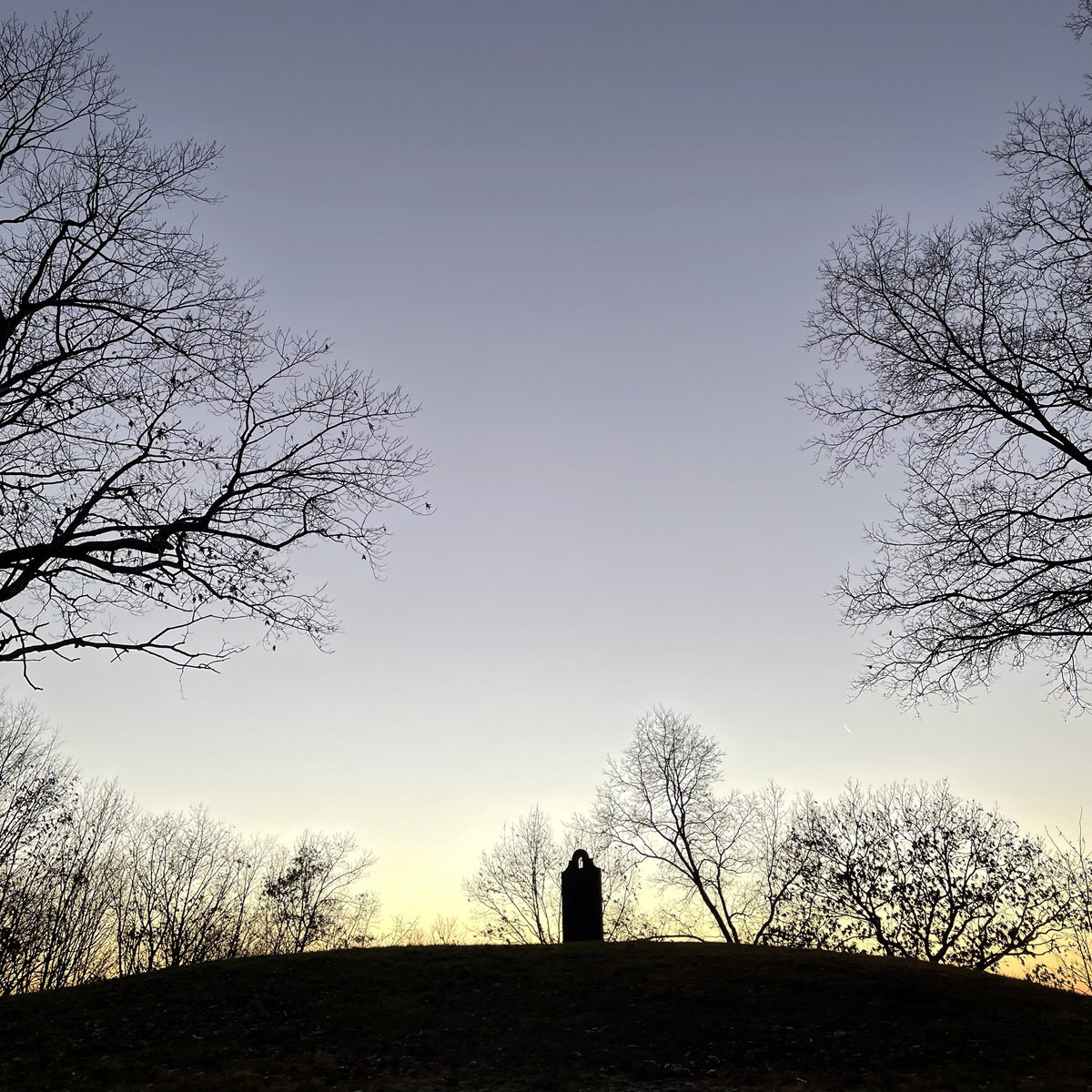 today's track is a series of synthesizer and guitar waves breaking against the shore of a loop
very exciting news - - the legendary briscoe disco new year's eve eve party is finally happening, even though the briscoe practice space itself has been lost to predatory landlords. instead we're gonna be dancing at IRL in Greenpoint, a lovely spot, and I'm even going to spin a few disco records, I think. Here's the ticket link (vax only), and here's the flyer: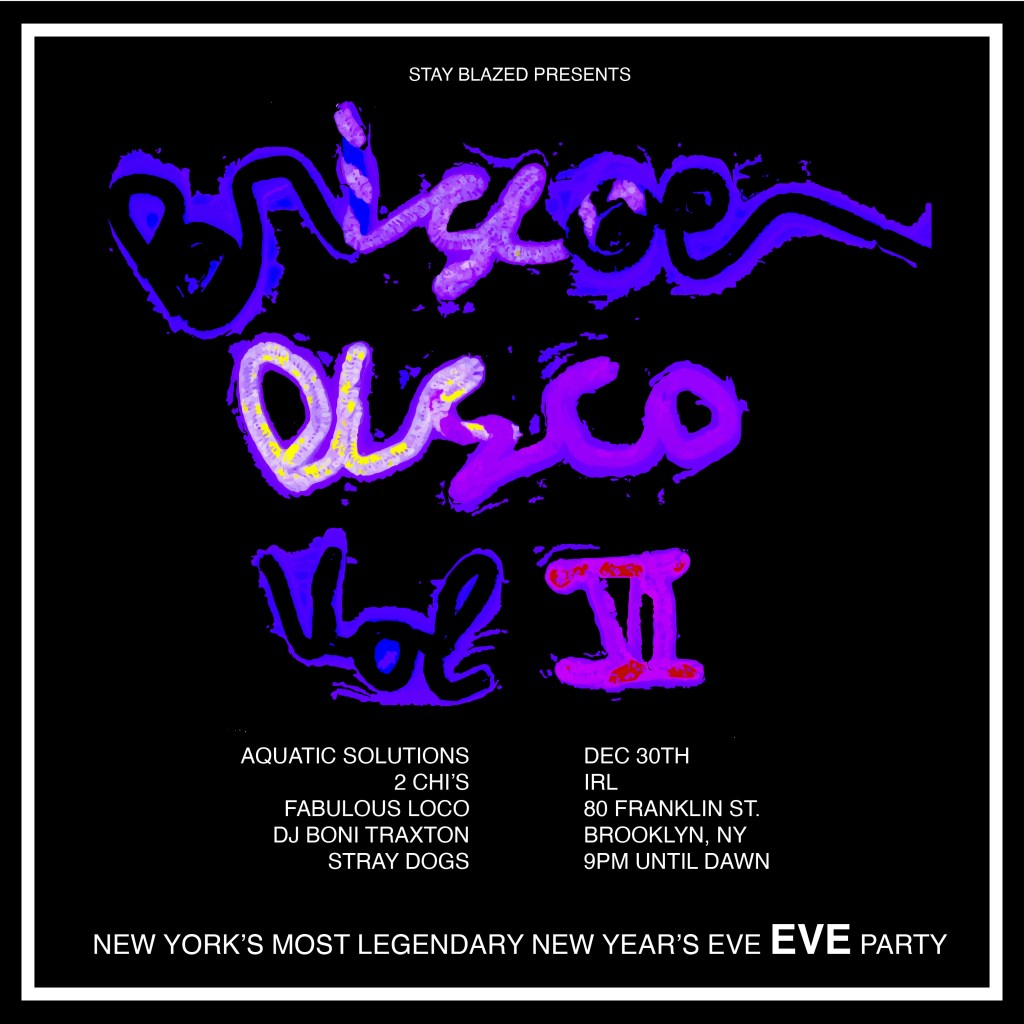 A screen displays this sentence, which you read with your eyes. Your eyes are a complex bio-mechanical construction, mushy bits and lenses, nearly spherical. The characters displayed on the screen appear as waves and differences of light which beam toward you, falling into the whirlpool of your perception. The light travels through the surface of the eye and into the byzantine circuitry, something about rods and cones, something about the image appearing upside-down in the architecture of our sockets but our brains flipping them the right way. The characters displayed by the screen and then beamed into your machinery fit recognizable patterns, words and grammar and sentences bubble up and meaning appears, however imprecisely. Language is a series of wet-on-wet watercolors, a movie made of tin plate photographs of always moving objects.
Perhaps you're using an audio description program and a software voice is reading these words to you. In this instance a sophisticated computer program is replicating the unbelievably complex oral ballet of human speech - fricatives, plosives, and diphthongs. The sound waves created by your phone's or your computer's speakers wiggle up into your ears and your ear canals where taut little membranes with blood vessels running through it resonate according to the wiggles of the waves. These wiggles - by means I don't fully understand - are then converted to an electrical signal, very much any cheap venue microphone. And if you're currently using these mysterious little inner ear hammers to listen to the music, a whole other series of indecipherable meanings beyond the rough hewn system of words is happening, I can't begin to write it out.
All of the language and the grammar and the meaning is stored in the brain, a dense, rippling organ made up largely of electrified fat, lipids with a current running through it. Something about synapses, something about the hippocampus, something about how every time a memory is recalled it is written anew, an ever-ongoing game of telephone. Each letter, each phoneme, every syllable here triggers, in combination, some totally unique series of recollections and previously-held information, a litany of comprehension that you couldn't ever possibly hope to explain to another person.
For instance, I suggest to you the following:
tandem bicycle
And, if you have understood the words, you are now considering your various associations with the meaning evoked by the word (and, as I'm suggesting to you, I'm thinking of eating angel hair pasta for the first time during church summer camp, learning how to place a collect phone call, my two friends visiting me in Bushwick in 2012 and cutely riding over the Williamsburg Bridge).
And for instance, if I suggest to you the following:
civil twilight
You might think of the sun setting, or of the military, and I recall learning how to use a sextant on a sailing ship and a song by the Weakerthans.
This is simply how it is, or at least how it is in my very facile understanding of neurology and optics and linguistics.
There are two ways to digest this. One path is to be crushed by consciousness - to see language and perception as deeply imperfect, crude implements that will never fully bridge the gap between people. We are terrifyingly individual, siloed in our own web of associations and connections. You'll never be known, not fully, and there will always be this perceptual wall between you and anyone else also walking around in a weird, fleshy husk. Why bother?
But the other option is a lot more fun. You can choose to see everyone else's terrifyingly individual experiences as a deep well to drink deep from, ever unplumbed depths, as a well-kept new arrivals shelf at the public library. The people in your life and the people on earth are, on a pretty universal level, all grubby little freaks with a lifetime of distinct lived experience. Even the people you are most intimate with you will never truly, fully behold. And then there are strangers, people you've never met, people who don't speak the same language as you, people who were just born and people who were born last century. Alone together in the horrifying ordeal of perception, corneas and tiny hammers and drums and lightning in our skulls.
But what's even more profound to think about is that all of our mechanisms for beholding and ascertaining the world and other people and all the subtleties therein are housed in these bipedal infrastructures, these bags of meat with bones and feet. We're filled with coiled digestive tracts and gut flora and bone marrow and white blood cells and we're constantly sloughing off skin cells, and I for one am constantly going a little more bald with every second that passes. Our bodies are malleable and inconsistent and they often betray us, but we'll never have another one. Our limbs lengthen and a new set of teeth comes in and then our bones get hollow or our eyeballs get too long or cells start growing all wrong, and then there are huge problems. Our bodies are ships of Theseus. Our bodies are the wile e. coyote planks of wood we're nailing together as we go, holding ourselves aloft. I've heard it said that when your ears ring after enduring something loud you'll never hear that particular frequency ever again. I don't think that's true, but everything about our corporeality is in flux, porous, not super consistent from one day to the next and super inconsistent from one decade to the next. As alienated and othered from strangers and neighbors as we are, would we recognize our own minds were we able to think as we did 20 years ago?
All of this to say - I am trying to reach you. And I hope it's not too late, one day it will be and we might not even notice.
And what about you? Are you noticing the waves as they wiggle toward you? Isn't it so weird to be a body? Are you drinking deep from the well?